I consider myself a very competent person at a professional skills, highly self-critical and self-demanding, being two factors that mark my professional experience and at the same time, separating my personal life from work.
I'm accustomed to high levels of requirement in results and that my work and results have the same applied excellence and perfection performed. I'm looking constantly to I can improve in my actions taken and I will always try to look and compare the technical and the practical sides to the improvements to be applied, and with it, provide a critical and fussy vision for my constant evolution.
As a result of this, it's one of the reasons why I fully identify myself with the Kaizen (改善) management method.
Thanks to my work experience, I have a facility for learning and quick adaptation to any software, management system or PMS, as well as ease of treatment and customer service, seeking the best possible satisfaction and experience for each requirement..
Always I will try to obtain the best possible results: although lurks a difficult climb, I will make the effort because I want to see what's the summit offers; always enjoying the way to walk.
If the road is travelled in company, I will stand in front for if necessary, minimize the obstacles and pull the partners from above because they arrive with me; and if in the course it's detected that I should be placed behind, I quickly place there to be able to accompany, encourage and raise the companions: my values and sense of companionship, I have it so.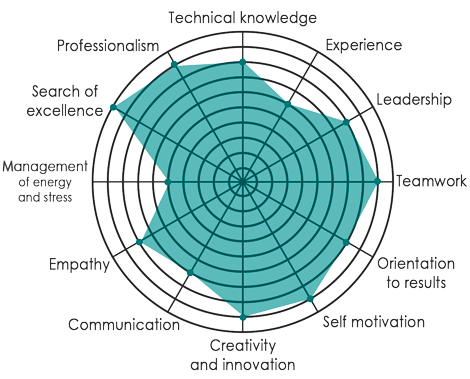 Improvement plan
I must make an improvement plan focused on the areas that define my professionalism, the constant search for excellence and perfection, as well as the improvement of my technical and creativity and innovation knowledges; also, I must take care of my leadership competencies and the realization of more and better of management and responsibility functions and teamwork, to simultaneously improve the results for which I am focused and for my own motivation.
Additionally, I must make an effort especially to turn my current energy and stress management, because I tend to internalize it in excess.
Finally, I should improve my specialized experience in the specific sector in which I want to dedicate myself, because even and be vast and broad in general, until now I wasn't specifically focused on my objectives, or my approach and future perspectives.